Cooling Towers
---
Since the mid-1980's, the cooling tower market has been utilizing pultruded fiberglass products. Pultruded FRP is now recognized as the best structural material for cooling tower construction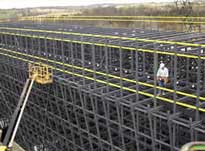 because it offers:
Cost Competitiveness with Traditional Materials (i.e. wood, metal, concrete, etc.)
Design Innovations
High Strength, Lightweight
Corrosion/Rot Resistance
Consolidation of Parts
Ease of Erection
Four basic types of cooling tower construction
"Stick Built" Towers
Modular Towers
Reconstruction or Refurbishment of Existing Towers
"Shop Built" Cooling Towers
"Stick Built" Towers
"Stick Built" towers follow the existing wood designs using FRP components of a similar size. Products used in this design are:
FRP structural shapes (i.e. angles, square tubes, round tubes, channels and plate)
Fabricated ladders, walkways, platforms
FRP grating
Modular Towers
Modular towers take advantage of FRP properties to achieve quick assembly with fewer parts. Typical of these designs are custom designed FRP shapes. Far quicker field erection can be achieved by utilizing custom designed parts and connections.
Although custom pultrusions are typically used as the structural members in this type of tower, standard FRP shapes as mentioned in the "stick built" option can be used in some tower designs.
Tower Reconstruction
In reconstruction of existing towers, FRP products are excellent replacements for rot-prone wood beams and columns. FRP parts can be made to the exact wood dimensions when necessary.
Standard inventory products such as SAFPLANK® are often used to replace traditional materials. Designing FRP to wood connections is also an important consideration in tower renovation.
"Shop Built"
A "shop built" tower is a smaller tower that is factory assembled and shipped complete - ready for use by the customer. The HVAC market is the primary user of these types of towers. Standard or custom shapes can be used in construction of this type of tower.
We are committed to growing this market with our standard and custom products, fabrication services and design expertise. The use of FRP in the cooling tower market is growing fast. We expect this market to continue to show rapid growth for many years.
Contact us for more information on these and other great fiberglass products. Already know what you need? Request For Quote