Pulp and Paper Operation
---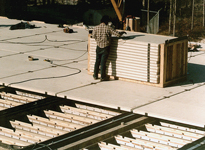 FRP has been widely accepted for use in the Pulp and Paper industry due to its durability, corrosion resistance and abrasion resistance, high strength-to-weight ratio, low maintenance, cost, and ease of design.
The pulp industry relies heavily upon the pulp bleaching process which involves a high concentration of chlorine and sodium chlorate. FRP serves as a nearly permanent solution for structures around mixing/storage tanks, caustic lime, acids and water removal areas, as well as a variety of other pulp and paper applications.
Metal alloys are typically more expensive to install, increasingly more expensive to maintain, and have shorter operating life expectancies. FRP products have been proven durable through continuous exposure of stringent chemical processes for multiple life cycles of their metal alloy counterparts.
Contact us for more information on these and other great fiberglass products. Already know what you need? Request For Quote