Fasteners
---
Studs and Nuts...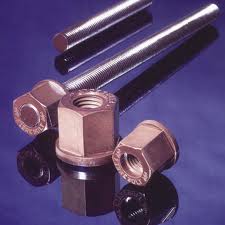 FIBREBOLT® consists of a pultruded stud with threads cut in a glass mat reinforced outer layer (the center of the stud is unidirectionally reinforced for high strength) and a molded nut. FIBREBOLT® does not possess the thread shear strength of steel, but has sufficient strength to be a viable alternative in structures where fastener corrosion is a concern or where metal fasteners are not permitted (antenna housings, computer equipment testing structures, etc.).
FIBREBOLT® fiberglass studs and nuts are ideal for applications requiring mechanical fasteners that must be non-corrosive, low in conductivity and/or transparent to electromagnetic waves. The studs are machined from pultruded vinyl ester rods and the nuts are thermoplastic. The studs and the hex head 6-point nuts come in 5 sizes, 3/8",  1/2",  5/8",  3/4" and 1" , Color: Brown.
       
Corrosion Resistant
Easy to Fabricate
Low Maintenance
Low in Conductivity
Transparent to Electromagnetic Waves
Color Blends with Most Structural Materials
Applications
Chemical Process Equipment
Air and Water Pollution Equipment
Marine Applications
Low in Conductivity
Cellular Antenna Mounts and/or Screens
Computer Testing Facilities
Contact us for more information on these and other great fiberglass products.
Already know what you need? Request For Quote.